Our Best Value Hand Held Camera!
New from Mega Speed Corporation the Mega Speed Max V1 with Direct-To-Drive recording technology which in many applications eliminates the need for traditional record/save cycles found in most other high speed cameras.
Understanding the Difference
The Mega Speed MAX V1 camera can save high speed video in either one of two ways. The first way is to save the video to the cameras SDRAM for a few seconds, stop the recording, download the video and then record again. This works great for applications that require the cameras highest frame rate possible however it is too time consuming for certain other applications that require quick repetitive saves or long term recording at a slightly lower frame rate.
The second way that the Mega Speed MAX V1 can save the high speed video is to save it directly to the internal drive every time you press the record button. With Mega Speed's Direct-to-Drive technology there is no wait time lost during the download cycle since the data is immediately saved to the drive as it is recorded. When saving this way the Mega Speed MAX can still save at a fast enough frame rate and large enough image size to satisfy a great number of high speed video recording applications.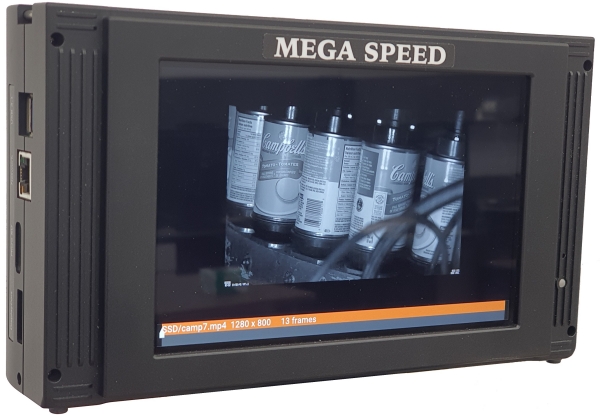 Advantage
Highlights
Resolution and FPS
Specifications
Touch Screen
Software
Advantage
What makes the Mega Speed MAX V1's Direct-To-Drive technology different from other camera models that can save realtime video to a SATA SSD? It is the speed at which the MAX V1 can do it. The Mega Speed MAX V1 can easily increase the continuous save speeds in real time by a factor of 3X or more compared to SATA II or SATA III drive technology. These fast save speeds are also handy while saving video from the cameras SDRAM which dramatically increases those cycle times as well. Mega Speed MAX V1's Direct-To-Drive technology is one of several standout features from this new cameras design.
Highlights
Resolution and FPS
Specifications
Touch Screen
Software